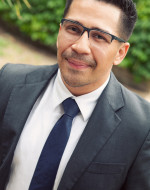 My name is Carlos Castaneda; I am a native speaker of both English and Spanish. I was born and raised in Southern California. Having 11 years of commercial banking experience has allowed me to acquire outstanding marketing techniques, exceptional client service, and become a great negotiator with my client's best interest at heart.
In 2013 I decided to start my journey as a Realtor which had been a passion of mine for a long time. Having the experience of becoming a first time home buyer and also having rental property has given me the insights of what it is to be on the other side as a customer.
As a Realtor my number one objective is to provide my client's with world class service during the whole process of the real estate transaction. As a member of Town Square, I combine my excellent skills with those of our entire team of Realtors to give our clientele a stress free experience. Town Square is ideally sized to represent clients effectively. Town Square is small enough to act quickly but big enough to deliver with powerful resources and global connections needed to get rewarding results.
Buying or selling a property can be one of the most important decisions you will make. I strongly believe I can help you make the best decision possible, whether you are looking to buy or sell, or just curious about the current real estate market. I also welcome any business with investors or investment opportunities for remodeling homes with historic character and charm. Please feel free to contact me any time via text, phone or email. I look forward to being one of your best resources.
CalBRE#01974703
Agents' Listings