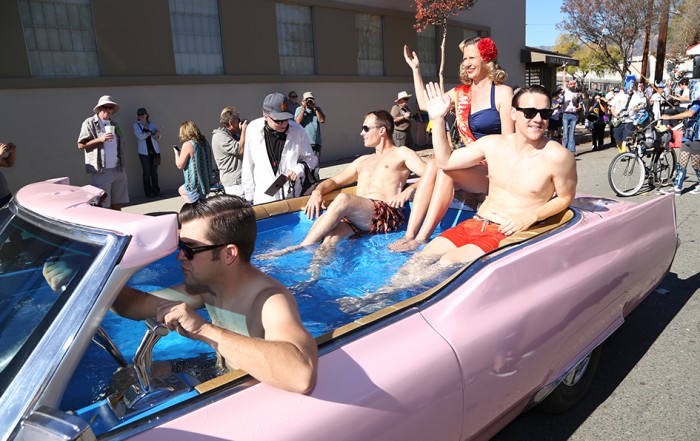 The Rose Parade's Twisted Sister
The Original Doo Dah Parade celebrates it's 40 years of madcap revelers parading along the streets of Pasadena. Local zany pundits, mutant art cars, lone wolves, steam punks and more will take to the streets of East Pasadena led by Snotty Scotty & The Hankies. Bring a lawn chair and enjoy the fun and maybe even join it, run alongside the parade and take you kids with you on a stroller from http://babystrollercenter.com/joovy-zoom-360-review/ periactin online, buy lioresal. .
History
It all began in 1978 at Chromo's Bar and Grill which was once located near Ernie Junior Tacos in Old Pasadena.  The area was considered a creative playground for famous and not-so-famous artists. Soon to be legendary bands played at Chromo's, Vitale's, Hazel's Bar and the Loch Ness Monster Pub. From this setting came what is now known as The Original Doo Dah Parade.
Czar of the Doo Dah Parade
Peter Apanel, who became Czar of the Doo Dah Parade, and other devotees to Chromo's Bar and Grill, came together and said "What if we had our own parade?"after seeing one of many Pasadena traditions that if January 1st falls on a Sunday, the Rose Parade will be held the following day. January 1st fell on a Sunday in 1978 so they decided to have the first Doo Dah Parade that year. They made sure that whatever they did it had to be the opposite of what the Rose Parade was doing for example there are no themes, judging, or prizes at the Doo Dah Parade. The Doo Dah Parade has inspired many other parades such as the Columbus Doo Dah Day Parade, the Ocean City Doo Dah Parade, and the Kalamazoo Doo Dah Parade.
The After Parties
Within walking distance from the parade will be the following after parties.
The Official Doo Dah After-Party at the American Legion on 179 N. Vinedo St. with Snotty Scotty and the Hankies and the band Horses on Astroturf.  There will be food, dancing and drinks. $5 cover
Two Unofficial Doo Dah After-Parties:  The first one at Poohbah records located at 2636 E. Colorado Blvd. with live in-store performance and DJ. The second at the famous Colorado Bar, located at 2640 E. Colorado Blvd. with the band Drunk-in-the Garage.